Now as I mentioned before my family isn't known for our high class dishes but what we lack in caviar we gain in party dips, snacks and you guessed it... the best spicy crispy wings.
Football games are a great time. There's tons of great munchie food, beers, good friends...and of course the games, every Monday, Thursday and Sunday for months. Who wouldn't love a weekly tradition like football to relax and unwind whether you're watching the games or not? I don't know how my mother got a hold of such a great recipe or if she actually came up with this one by herself but it has become such a crowd favorite and has become a must have at all football get-togethers. Again, the recipe is so simple yet the flavor and crunch to these wings are just so NOT finger-licking but just good.
The secret to these wings are in marinading the wings overnight or for at least a couple of hours to make the heat in the hot sauce to really infuse the wings. Then right before cooking they are rolled in Bisquick and baked to create that extra crispy crunch on the outside. Fiery inside and crunchy on the outside make these wings irresistible. They are so tasty all there own that you don't even really need blue cheese to dip, however if you aren't too keen on spice the blue cheese can help mild out the heat.
Ingredients
Recipe and photos by A Healthy Jalapeno
1 family pack chicken wings
1 large bottle of Frank's Red Hot Sauce
1 small box Bisquick baking mix
1 large zip lock bag or tupperware container
Celery and Blue Cheese dressing (optional)

Preparation
Cut wings into 3 segments and discard the pointy part. Put wing pieces into zip lock bag and pour about ½ the bottle of Franks's into the bag. Squish the chicken around in the bag so it is all covered with the hot sauce. Leave overnight or even for a few hours to marinate.

Preheat oven to 400 degrees. Rub your largest cookie sheet with butter.
In a small bowl full of Bisquick, coat each wing piece and put onto the cookie sheet. Bake for 30 minutes then use spatula to turn them over. Don't worry that some of the Bisquick comes off. After they bake another 30 minutes on the other side, they will be nice and crispy!
Serve alone, or with celery and Bleu Cheese dressing and you can also use the remaining Frank's Red hot to dribble over your wings or to dip... depending if your taste buds want to take a walk on the wild side. As my mom would say watch out, they will come running... they're gone in minutes!!
Come link up and see what other delicious and healthy Super Bowl snacks we're all sharing at: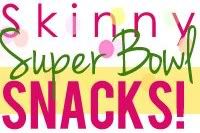 Enjoy!